Are you looking for the best remodeler in Baltimore, Maryland? Tired of fake promises and no results?
You're at the right place!
Mid-Atlantic Remodeling Company has been named the best remodeler in MD by HGTV.
We have become industry leaders when it comes to remodeling, home renovation, and restoration.
Why? Because Mid-Atlantic provides top-notch services for both residential and commercial customers. From exterior remodeling to insurance restoration, folks at Mid-Atlantic go the extra mile to exceed client needs.
So, if you're a homeowner looking for exterior remodeling services in MD or a business owner requiring renovation, Mid-Atlantic is your go-to remodeler.
What is HGTV?
Home & Garden Television (HGTV) is a multi-media empire and a part of America's home design culture. It is one of the most renowned niche improvement TV channels in the world. HGTV has developed itself as an authority figure in home improvement and real estate.
HGTV is received by 82.2% of households with a television in the U.S. Moreover, HGTV shows averaged 1.3 million views in prime time. In short, Americans love HGTV!
Here are some of the best shows on HGTV:
100 Day Dream Home
House Hunters
Home Again With The Fords
Why is HGTV so famous? And most importantly, why do Americans trust HGTV for their home improvement needs?
HGTV has been in the industry for over 25 years. They know all about remodeling ideas, cost, and the best remodelers in every region.
From the kitchen, bathroom, and exterior remodeling to roofing, siding, and insurance restorations, HGTV has everything in the store. They have a ton of stuff on finding the best remodeler in your area, budget renovations, and home improvement.
So, if you ever find yourself confused about how to hire a professional remodeler and get the most out of it, just visit HGTV.
How did Mid-Atlantic Remodeling Company become the Best Remodeler in MD named by HGTV?
There are hundreds of remodelers in Maryland, but only a few deeply care about their customers.
With all these remodeling companies, how did Mid-Atlantic manage to become the best remodeling contractor in MD and get nominated by HGTV?
It's easy! We consider our customers the top priority and have an established presence in the community.
We know how hectic and cumbersome remodeling is and how it can get on your nerves. We aim to take that burden off your shoulders by providing a wide variety of Maryland exterior remodeling services.
From the initial survey to the final product, we handle it all.
Here's why Mid-Atlantic Remodeling Company was nominated by HGTV:
Do you have a vision in mind? We want to hear about it!
Mid-Atlantic Remodeling Company is a one-stop shop for all your remodeling needs. We believe in customer satisfaction and quality of services. Our priority is to save your money and provide the best possible solution in the minimum time.
We are the best remodelers in Maryland because we keep you in the loop from day one. And even if you have any questions or change of plans, we will answer.
We are experienced in what we do!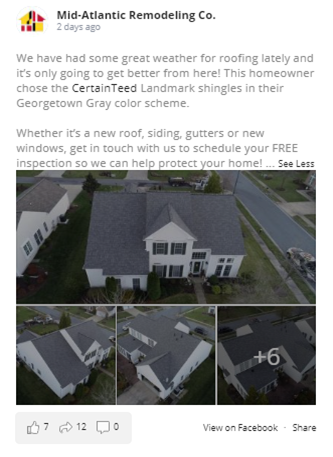 With over ten years of experience, Mid-Atlantic is proud of its reputation among customers and peers.
Our track record of success includes hundreds of projects that HGTV itself has also acknowledged.
We have an established presence in the community, as our work can be seen all over Maryland.
We specialize in siding, roofing & shingles, gutter/downspouts repairs & installations, masonry work, outdoor surface staining, and window/glass repair.
All of our services are backed with a COMPANY WARRANTY AND GUARANTEE!
Moreover, we work with all insurance companies in the Greater Baltimore area and across the state of Maryland.
Mid-Atlantic makes use of high-grade materials that last from reputable suppliers. We work in collaboration with reputable contractors, trained professionals, and trustworthy vendors.
What do we offer?
Mid-Atlantic offers everything except fake promises.
We provide a long list of services that covers all of your roofing and remodeling needs.
Mid-Atlantic can help you with windows, roofing, siding, gutters, fascia/soffit, insulation, interior and exterior paint jobs, hard and soft surface flooring, and water mitigation services.
Worried about how you are going to deal with wind, hail, water, fire, or smoke damage? Need help with restoration?
Our team is trained to deal with all sorts of property damage inspection, assessment, and reconstruction as well as mold removal, remediation, and testing.
"A great home starts with a great roof."
Being the best remodelers in Maryland, we help our customers with roof design, installation, and repair. Moreover, we provide a 50-year warranty on the total cost of materials and installation.
Mid-Atlantic provides residential and commercial windows/glass installation, upgrade, and repair services in MD.
We can help you with all sorts of home sidings, including wood (cedar shake), vinyl, metal, and paint.
Give us a quick call if you observe warped, bowed, or rotted siding panels.
Mid-Atlantic specializes in gutter installation and replacement in MD. We cover every type of gutter, ranging from K-style to Half-round.
Conclusion
Remodeling takes time and effort, and if it's done right, it adds value, comfort, and convenience to your home.
Mid-Atlantic Remodeling Company has become one the most trusted and best remodeler In MD. We offer MD residents a wide range of home restoration, renovation, and remodeling services, all under a single roof.
Our history of customer satisfaction and high-quality services has allowed us to become the best remodeler company in MD named by HGTV.
So, what are you waiting for? Give us a quick call, and we'll provide a free estimate for your Maryland roofing and remodeling needs.