Is your roof holding too much water and debris? If yes, it's probably because of a clogged drainage system. Proper water drainage from your gutters is essential to prevent water from settling on the roof or around the basement. Many homeowners don't realize the importance of a roof drainage system until their roof starts leaking or the water damages the siding, bricks, or masonry work.
The biggest threat to your house is not an alien invasion but water itself. And poor drainage from gutters is one of the prime reasons many roofs collapse during the winter season.
Do you need a gutter system?
A common misconception is that you don't need a drainage system if you have a sloped roof. That's not true. Both sloped and flat roofs require a water drainage system to prevent damage to the house.
The only reason why you might not need a gutter system is if you live in a dry climate.
All the water on your roof accumulates in the gutters and is diverted away from the roof using downspouts.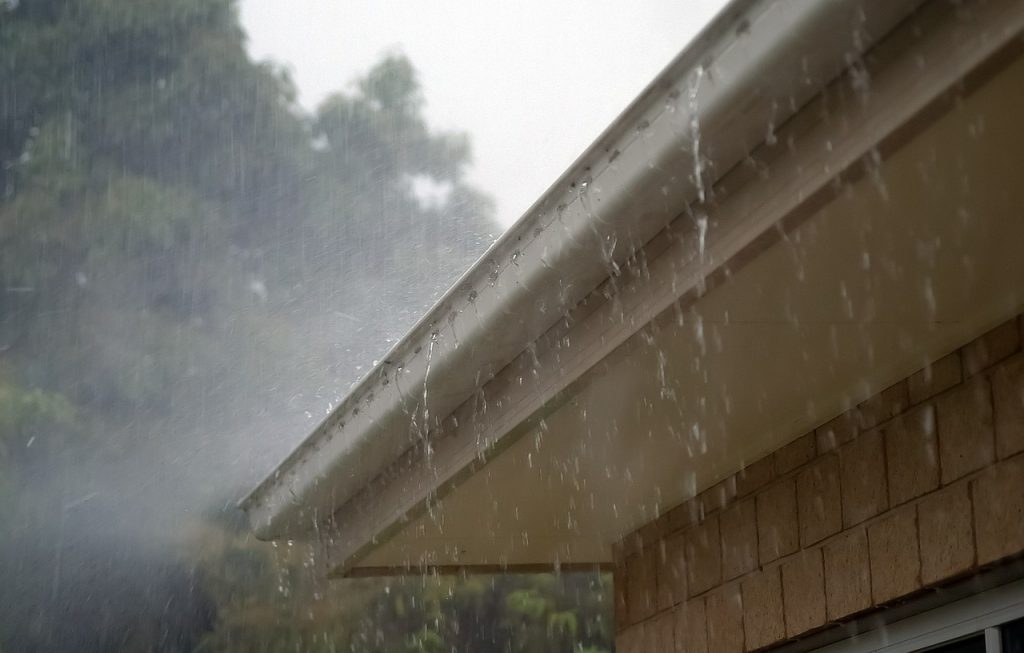 A good drainage system has gutters on every sloped edge of the roof with leaf guards and downspouts attached to extension pipes that take water away from the house's foundation.
How do blocked gutters cause water damage to the roof?
What happens if your gutters get blocked during a downpour or a snowstorm? Water and snowmelt stay on the roof, causing overloading on the roof.
One inch of standing water on the roof equals five pounds per square foot. 
With this increased live load on the roof, there is a high chance that your roof will experience leaks. This can lead to rusting, cause wood rafters to bow, and damage your property.
Must Read: Roofing Damage: Problems & Solutions
Gutters provide a safe path for the water to be dumped away from the house, but blocked gutters in a downpour cause overflow. This overflow can cause damage to the exterior of the building and the foundation as well. 
What happens if there's snow on your roof? Melted snow won't have a path to go down, and hence it will refreeze—causing the formation of ice dams at the roof's edge.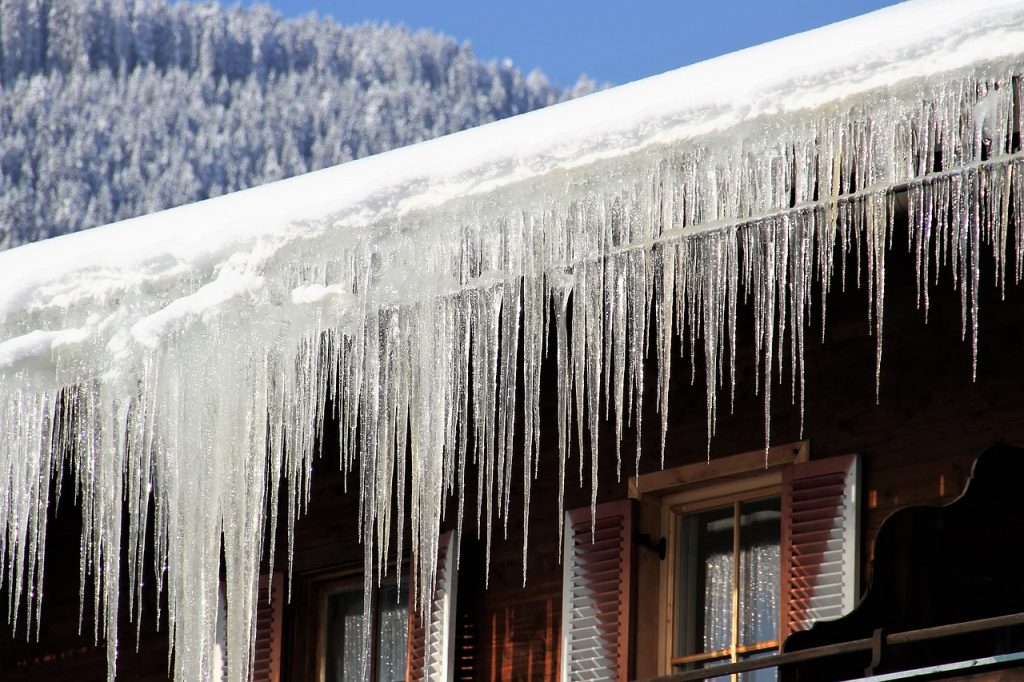 This puts excessive weight on the roof, leading to a leak or even a roof collapse. Pooling water can freeze and expand, resulting in cracks.
If the water stays up there for long, continuous moisture can lead to the formation of mold, fungi, and mildew. These can put you and your family at a serious health risk. 
If the water leaks into your home, wave goodbye to your expensive walls and flooring. Mosquitoes can also bread in stagnant water. 
The overflow also saturates the soil around the foundation, leading to cracks, weak foundation walls, and basement flooding. Tress, flowers, and gardens near your house will also be negatively impacted due to erosion. 
In short, blocked gutters can pose serious threats to you and your house. 
What can cause a blocked gutter?
We've discussed how scary a blocked roof drainage system can be, but how can your roof drainage system get blocked?
Here's how:
If there are trees near your house, there's a high probability that leaves will fall in the gutters. These decaying leaves and twigs turn into a soggy mass due to moisture and block the gutter. 

It's recommended that you clean the gutters twice annually if there are trees within 10 feet of the roofline. Another remedy is to use leaf guards.

Debris can also accumulate in gutters over time and hinder water flow during a downpour.

If your house has asphalt shingles, granules can fall off and block the gutters.
How to maintain a roof drainage system?
Roof drainage is not a one-time job. You have to regularly check and clean your gutter system to avoid any mishaps. It is advisable to inspect the whole thing once a year, preferably in the fall season.
If there are trees near your house, another inspection in the spring season is also a great idea. 
And if you spot weed and grass growing in the gutter itself, you're in trouble.
So, what are the best gutter drainage ideas to maintain your roof's drainage system?
Insert gutter guards (metal mesh or sheet metal gutter helmets) to prevent clogs and water overflow. 

Gutters alone are of no use. Install

adequately sized downspouts

attached to extension pipes that will carry the water to a sloping final grade greater than 5 ft. from the foundation or to an underground catchment system of more than 10 ft. You can also route the water to a nearby storm drain.

Waterproof your basement as a precautionary measure.

Make sure the gutters are properly fastened to the fascia.

Use dehumidifiers to avoid moisture buildup, which can lead to mold and mildew.
Conclusion
A regular inspection of your roof drainage system is crucial to avoid heavy loads on your roof. Just scoop out anything you find in the gutters, and once you're done with all the decaying leaves and debris, use a garden hose to flush out anything that's left.
Don't forget to check for loose connections or broken fasteners.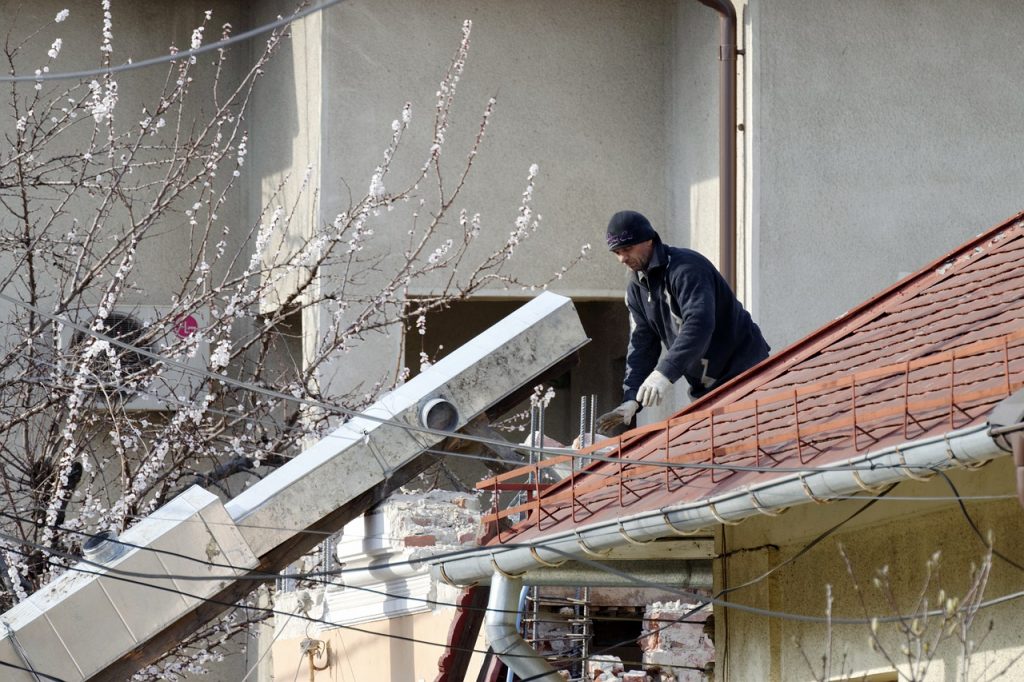 Cleaning gutters is not a difficult job but working with a ladder or a roof is not everyone's game.
So, why not hire someone trained to work with gutters? Contact the nearest water drainage contractor and get your roof drainage issues fixed instantly!