Whether you're passionate about saving the environment and reducing your carbon footprint – or simply someone who wants to cut back on your home energy costs – energy efficient roofing and construction is an important step toward these goals.
Benefits of Energy Saving Roofing
There are many reasons to take measures to install energy saving roofing. First, the technology and materials used in roofing systems that are designed to save energy do so by keeping heat out of your home during warm weather conditions. And keeping the heat in your home when it's cold outside. As a homeowner, what that means for you is a lower heating and cooling bill. Think about it: if your heater and air conditioning don't need to work overtime to maintain a certain temperature in your house, you will invariably use less gas, electric, oil, etc. With less usage, you'll save money each month.
Plus, because you are not drawing as much energy from power plants, you will be doing your part to prevent power outages, as well as contribute to reduced carbon emissions from energy plants (energy.gov). Another added benefit is that the more energy-efficient your roof is, the longer it may last, resulting in less repairs and a longer overall lifespan before it needs to be replaced or repaired.
So, now that you are convinced that energy saving roofing is for you, here is a list of various options to consider:
Energy Efficient Roofing Shingles
According to energystar.gov, "ENERGY STAR certified roof products reflect more of the sun's rays. This can lower roof surface temperature by up to 50 degrees Fahrenheit, thereby decreasing the amount of heat transferred into a building."
One affordable Energy Star option is to install energy-efficient roofing shingles. In addition to being one of the most commonly-used materials, asphalt shingles are also affordable and easy to install. Asphalt shingles, when chosen wisely, can also be energy-efficient. However, do your homework, because not all shingles are created equal.
To ensure that your asphalt shingle is an energy efficient roofing shingle, consider roof coatings designed specifically for energy efficiency, shingles with cooling granules, and shingle colors that will not absorb too much heat from the sun's rays.
Other shingle materials that do an excellent job in the energy efficiency category are metal, tile, and composite shingles. Because metal roofing systems are one of the best choices for anyone concerned about energy conservation, read on for additional information specifically regarding the benefits of metal roofing.
Metal Roofing Systems
Check out what the Metal Roofing Alliance has to say about metal roofing systems: "Metal is one of the most energy efficient roofing materials available and can save your home up to 40% in energy costs . . . and provide excellent insulation during the winter" (metalroofing.com).
One reason metal is such a terrific material is that it reflects the sun's rays, and this alone makes it the perfect energy-saving roofing material. Then, if you add on a "cool" roof pigment and reflective coating, you can increase the roof's reflective properties even more. And if you want to take this to an entirely new level of energy efficiency, consider installing solar panels on your roof, as metal easily lends itself to solar panel installation!
With quality installation, metal roofs require very little maintenance. What's more, they are extremely durable – a plus if you live in an area that is prone to wind, rain, snow, and/or severe weather events. Finally, metal roof style options abound, from sleek and modern, to a more traditional look with metal shingles that mimic the appearance of shakes or asphalt.
Cool Roofs
There is extensive technology available today that allows you to have what is known as a "cool roof." These roofs are perfect for regions that experience warm seasons or warm weather year-round. Materials in cool roofing technology include the previously-mentioned cooling granules, specific coatings, and carefully-selected roof colors – and these can make your roof extremely energy efficient.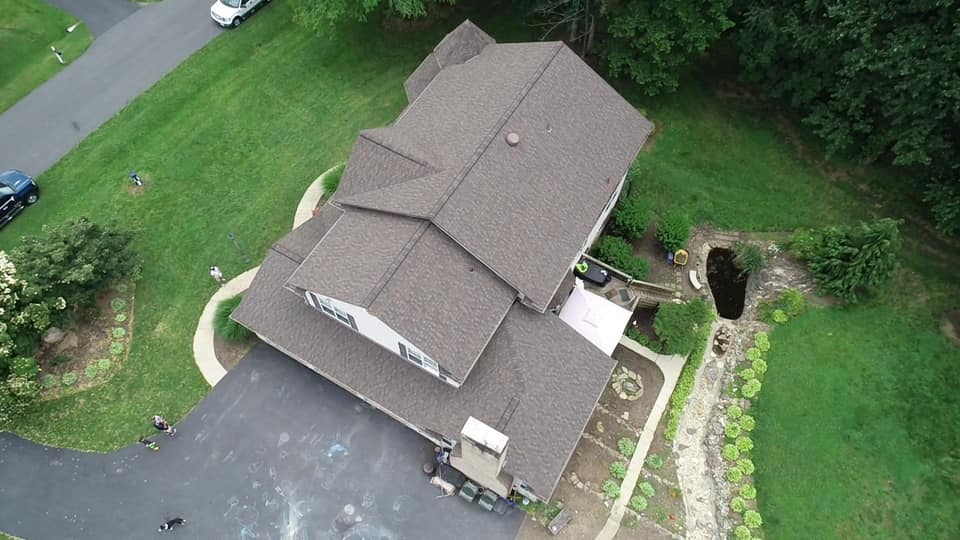 Another type of cool roof that also looks "cool" is a green roof. These roofs feature vegetation, plants, etc. on the roof, to absorb sunlight, provide a natural insulating barrier, and also release oxygen back into the atmosphere. Green roofs can create a unique aesthetic for your home, especially "intensive" green roofs that feature gardens and other beautiful greenery.
Where To Find Qualified Roofing Contractors for an Environmentally-Friendly Roof
Mid-Atlantic Remodeling Company has been serving satisfied customers for the past decade, with quality workmanship that is delivered affordably and on time. In addition, with the countless options for making a wise energy choice for your roofing style and material, we can assist you with this overwhelming process.
Our experienced staff at Mid-Atlantic is knowledgeable about the best energy efficient roofing and construction options. Working with us, you can be confident you are going to begin to cut energy costs – while creating a greener, more sustainable home.
But don't take our word for it! Check us out on Facebook or visit us at https://midatlanticremodelingco.com/, and see why our satisfied customers agree that Mid-Atlantic is your premier roofing company. With a 30-year warranty for the full cost of materials and installation of your roof, we stand behind our products and workmanship.
Find out more by calling us today at (410) 918-0563. We look forward to hearing from you and helping you with your next energy saving roofing project!