If you're in the process of selling your home – or even simply considering it – the condition of your roof may be causing you to ask: Is a new roof replacement necessary before I list my home? If so, where can I find roof replacement services near me, at an affordable price?
Before you rush out to replace your roof, take a few moments to consider the following . . .
Home roof replacement considerations
There are a variety of factors to consider before making this important decision:
Age.
If the roof is less than 15 years old and does not show any signs of deterioration or damage, a new roof replacement may not be necessary. On the other hand, if your roof has suffered damage from wind, snow, rain, etc., the integrity of the roof may indeed have been compromised.
Condition.
If your roof is extremely weathered, or if damaged shingles and leaks are a true concern, you may have no other choice. A new roof replacement may not only be necessary. But it's also the right thing to do. The last thing you want to do is sell a home with a leaky roof (and future mold problems) to the new homeowners. Also, if your roof is completely dilapidated, it's possible it won't even pass inspection. In this case, you don't want to let the roof become a deal-breaker for potential buyers.
Warranty.
Is the roof still under warranty? If so, this may be the perfect time to take care of the replacement. If not, you'll still need to consider the roof's age and condition.
Terms of the deal.
If you're in a position in which you already have an offer on the table, a new roof replacement may come into play during negotiations. For example, when we purchased our home, the roof was in dire need of a replacement. But we preferred to take care of replacing it on our own. As the new homeowners, we wanted to choose the roof color, style, quality, etc. In return, the seller agreed to a slight price reduction. In our situation, it was a win-win. The sellers didn't need to worry about a home roof replacement as they prepared to move. And we were in control of what our new roof would look like. Plus, we had the liberty of selecting an experienced company that we knew would do a good job.
Of course, this isn't always the best option. If money is tight for the buyer, he or she may need to have the new roof replacement taken care of by the current homeowner. This way, the buyer is only responsible for the closing costs and mortgage – without the added pressure of paying for a roof shortly after moving in. In the event that the responsibility falls on you as the seller. You will need to find a roof replacement company near you that is affordable – while installing a quality roof that the new homeowners can enjoy for many years to come.
What to consider when hiring a roofing company?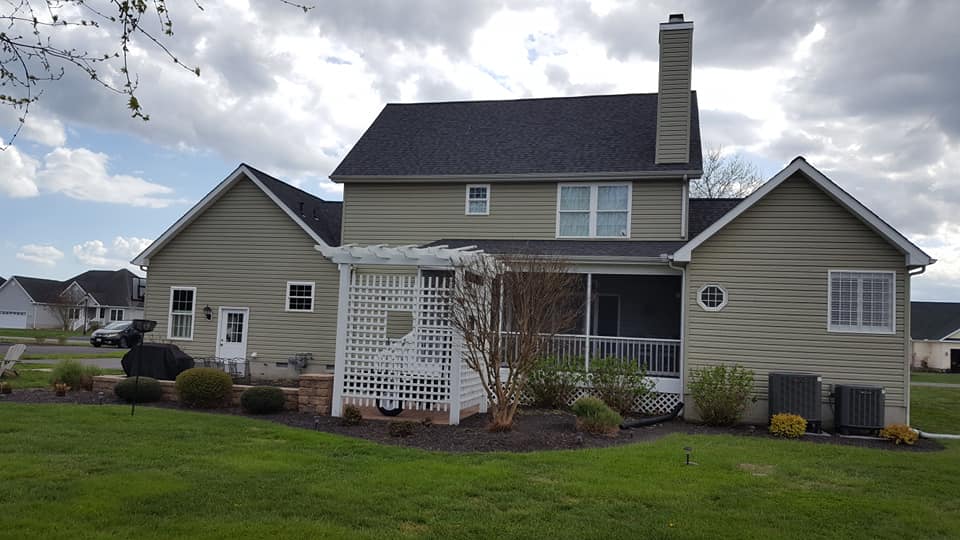 If home roof replacement is necessary before selling your home, consider the following hallmarks of a quality new roof replacement company:
Experience.
Does the company have experience, specifically in the area of new roof replacements? Some companies promise to be the "jack-of-all-trades." But as the saying goes, they may be the "master of none." While the company doesn't necessarily need to only deal with roofing, check to ensure that their past construction and/or remodeling jobs include roofing projects. You certainly don't want to be the company's first roofing job!
Reputation.
Does the company have satisfied customers that you could call? Check out their reviews online and ask the company to provide you with several references. Ask former customers about the scope of their project, the cost, professionalism of the crew, etc. Also consider asking your neighbors and other people you know who live in your area for recommendations.
Affordability.
As the seller, you don't want to overspend on a roof that won't be yours in a few weeks or months. But you have an ethical responsibility to replace your faulty roof with quality roofing materials. High-quality – yet affordable – home roof replacement companies do exist, if you take the time to do your homework and procure multiple quotes.
Responsiveness.
You could contract with the most skilled, qualified roofing company. But if they're not responsive to you as a customer, beware! This is a red flag that you may become aware of before the job even starts. Think about what this will mean once the job actually begins. There may be delays, and depending on your timeline, this could seriously impact your timeframe for selling, closing, etc. That's not to mention what might happen if you (or the new homeowners) have questions during and after the replacement. If the company wasn't responsive in the early stages, they may become even less responsive once you've made payment.
Mid-Atlantic Remodeling Company: Ready to take care of your home roof replacement with quality materials and installation that's on time and on budget.
Mid-Atlantic Remodeling Company has a reputation for its professional new roof replacement services. Not only do our contractors use quality materials, but our roofs also come with a 30-year warranty on the full cost of materials and installation. Best of all, our pricing is competitive, so replacing the roof before you move won't break the bank.
We pride ourselves on responsive, professional service before, during, and after your new roof replacement. We strive for quality workmanship in all we do, and this credo has resulted in a positive track record of satisfied customers. Check out our positive Facebook reviews, or give us a call for a list of references.
Visit our website at https://www.midatlanticremodelingco.com/ or give us a call today at (410) 918-0563 to learn more.