Technology is an important part of our everyday lives. From computers and smartphones, to Siri and Alexa, we rely on innovation and technological advances like never before. But it is not just our devices that have evolved, thanks to technology. Even the advanced roofing technologies in construction industry is capitalizing on technology to offer better, more durable products that provide customers with environmentally friendly options that offer value as well.
New roofing technology is part of this trend, and customers are taking notice. Check out just a few of the advanced roofing technologies that are making homes beautiful, long lasting, and energy-efficient:
Eco-Friendly Roofs (Green Roofs)
A Forbes article defines green roofs as ones that "foster the growth of vegetation. [Green roofs are] made of a waterproofing layer, a root barrier, a drainage system and growing medium for the plants. 'Intensive' green roofs, or roof gardens, can be accessible and can include much larger plants and even water features."
Although environmentalists may love the idea of using this kind of new roofing technology in their homes. There are many rumors circulating about green roofs that give consumers pause. Fortunately, many of these rumors are simply myths. For example, many people believe green roofs are too expensive, leaky, and they are complicated to build; however, that is not the case.
If the roof is well installed, with a quality waterproofing membrane, there should be no more leakage issues than you would expect from any other kind of roof. And if you work with a knowledgeable roofing contractor for the selection of materials, vegetation, irrigation, etc., it is entirely possible to create a beautiful and sustainable green roof that doesn't need to cost a fortune.
Source: https://www.forbes.com/sites/houzz/2013/12/30/6-busted-green-roof-myths/#33090afe3384
Solar-Friendly Roofs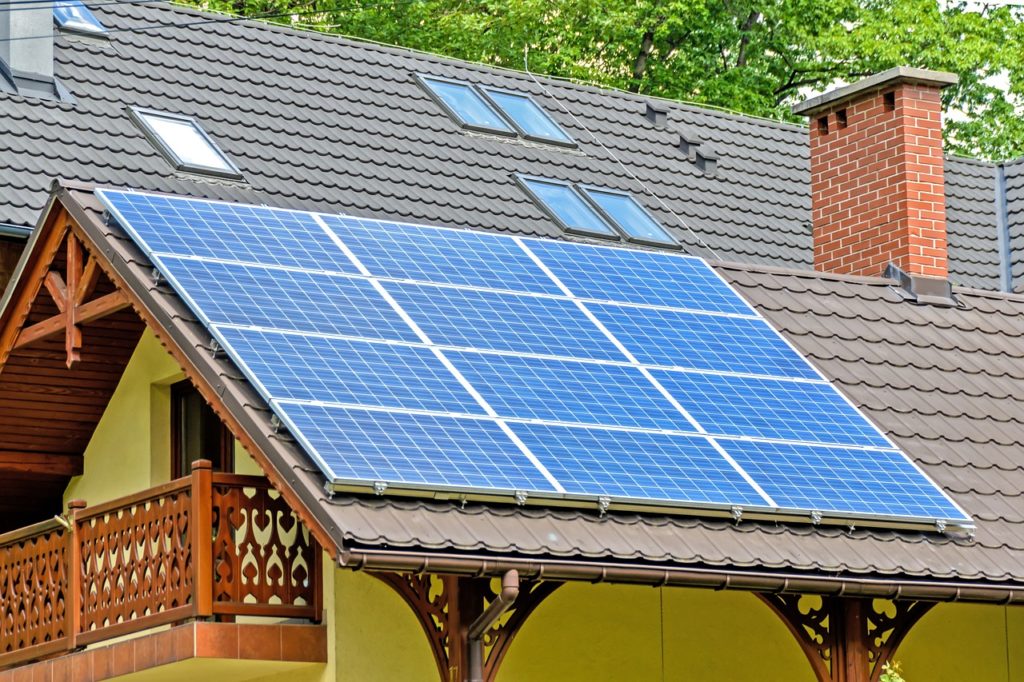 When it comes to the solar industry, a variety of advanced roofing technologies are available. Instead of "traditional solar panels attached to racks," solar-friendly roofs are equipped with solar tiles or shingles. There are many brands available, and they all differ slightly when it comes to style, size, and overall look. For instance, CertainTeed and SunTegra both manufacture small solar panels that attach to the roof, "alongside asphalt shingles" – but without a rack. Meanwhile, for Tesla's solar roof, "traditional roofing tiles are not used." Instead, the "solar cells [are] hidden behind tempered glass, and matching non-solar tiles are used along the roofing edge."
Source: https://www.solarpowerworldonline.com/2019/04/the-latest-on-solar-roofs-solar-shingles-and-solar-tiles/
Flat Roofs
Those who enjoy a super-modern look will rejoice because flat roofs are back! Flat roofs are giving homes an uber-modern aesthetic. Whether it's part of a green roof, a rooftop deck, or just for those wanting to achieve that contemporary look. A flat roof is a viable option. The only caveat is that, depending upon the typical weather patterns in your area. You will want to ask your installer if the rain and snow will create problems for this architectural style.
Source: https://www.streetinsider.com/Press+Releases/TOP+RESIDENTIAL+ROOFING+DESIGN+TRENDS+THAT+WILL+BE+EVERYWHERE+IN+2020/16633528.html
Metal Roofs
Metal roofs have been around for quite some time, but according to "8 Roofing Trends to Watch in 2020," this roofing material is enjoying its resurgence in popularity. Metal roofs are durable, they reflect the sun's UV rays, and they can contribute to steady temperatures in the home, thanks to the material's insulating properties. If you're considering a metal roof, it's a great option for anyone seeking energy efficiency for heating and cooling in the home.
Source: https://www.cedur.com/8-roofing-industry-trends-to-watch-in-2020
Synthetic Shingles
Old roofing materials were manufactured with asbestos. And modern roofing technologies are allowing manufacturers to create synthetic roofing options that mimic natural materials like cedar, asphalt etc. But without the toxic materials. According to BobVila.com, one "green" company is EcoStar; their composite roofing shingles allow homeowners to claim 4 LEED points, and this company has been around for 20 years. The same article touts the visual appeal of the CertainTeed shingles. In addition to their beauty, CertainTeed synthetic shingles actually offer an amazing 50-year warranty for their product. Best of all, the roof looks like real slate!
Source: https://www.bobvila.com/articles/composite-shingles/
Cool Roofing Materials
If the company offers a shingle that provides "cool roofing materials," pay attention! Legitimate cool materials in roofing products can lead to significant savings for homeowners. In fact, the Green Building Alliance claims that, "cool roofing is known to be very affordable overall, with energy savings ranging from 7%-15% of total cooling costs."
Source: https://www.go-gba.org/resources/green-building-methods/cool-roofs/
Other Tech for Roofing
In addition to the new roof materials, styles, and types, there are other tech tools that help roofers and homeowners alike. For example, drones are becoming increasingly popular for damage detection, before and after pictures of projects. And getting a close look at the roof without risking the roofer's safety. Not only do drones eliminate the need to climb around on a deteriorating roof to diagnose problems. But also the drone's ability to zoom in on problem areas can result in lower costs to the consumer. That's because the close-up views make it easy to diagnose the exact areas that need repairing, instead of recommending complete replacements that may not be necessary.
https://www.roofingcontractor.com/articles/94254-vision-a-look-ahead-for-the-roofing-industry
Mid-Atlantic Remodeling Company: Ready To Help You Find the Perfect Roof
Contact us at Mid-Atlantic Remodeling Company to discuss new roofing technology that will fit your budget, taste, and lifestyle. With so many options on the market, our knowledgeable team will discuss the pros and cons of each option. And help you decide on the perfect roof for your home!. Visit our website at https://midatlanticremodelingco.com/ or give us a call today at (410) 918-0563.