When it comes to making repairs to your home, there are certain major projects that homeowners don't take lightly. For example, repairing the home's foundation, roof, or HVAC system is no small feat. Windows are yet another major project, especially when you are considering a complete replacement of some (or all) windows in your home.
At this point, you may be wondering if you really need to replace your windows — or if a simple repair will do the trick. Before you decide which direction you plan to go, ask yourself the following questions:
What's the problem with your windows?
If you're experiencing a draft near your window. If condensation is building upon the glass. Or if the windows appear foggy, that could be a sign that your window is very energy-efficient. Because it is letting air and moisture through. In the event that actual water is coming through the window, you will definitely need to consider repair or replacement. 
If the glass itself is not the problem, it's possible you only need a sash replacement. Issues with the sash can occur when the upper or lower mechanism inside the window that allows you to open and close the window is faulty. In older windows, this involves a pulley system with weights. While newer windows use springs in their sashes. Either way, problems with opening or closing the window could mean that you need to repair or replace the window.
Another culprit could be the window jamb – the framing around your window that allows it to slide up and down. If the framing was painted, it is possible that it has prevented the window from operating freely in the jamb. Improper installation — or if your home isn't square — can also create window jamb problems. Even seasonal changes (high heat/humidity and cold temperatures) can cause expansion or contraction that may affect the functioning of your window.
What type of window do you have?
Single-pane windows.

Typically, older (especially historic) homes had single-pane windows installed in them. Most single-pane windows can be reglazed. This means that you may only need to have a new pane of glass replaced and glazed with a coating. But even if a simple glass replacement will do the trick, you may still decide to move forward with a full

home window replacement

. Why? Because single-pane windows are not the most energy-efficient. By considering multi-pane windows or IGU's (see next section),  you will enjoy lower heating and cooling bills in the winter and summer months. 
Multi-pane glass.

Many newer windows are double- or triple-pane windows. Because this style of window is usually sealed, issues with multi-pane glass typically result in the need for a complete

home window replacement

if there is damage, leaking, etc. 
IGU's (Insulated Glass Units).

IGU's (Insulated Glass Units) ar

e another type of multi-pane glass found in newer windows. These windows are sealed units with argon gas between the panes, which creates insulating layers, to keep your home temperate.


For example: Keeps cool air inside your home during warm weather months and keeps heat in your home during cold weather months.
IGU's are also glazed with a low-E (low-emissivity) coating, which prevents UV and infrared light from passing through the glass. Because of the gas, seals, and coating used to manufacture this type of window. You will likely need a home window replacement if there is something wrong with an IGU.
What window style is it?
In the case of a transom window, which is fixed in the frame, you don't have moving parts, springs, etc. If this window has a crack or leaks from the glass, then, you may only need a simple glass replacement and glaze.
Casement windows, on the other hand, are windows that allow you to turn a crank arm (the handle you rotate to open the window horizontally). With this type of window, if you have a problem with the crank, moving parts inside the window, etc. You will need to have the mechanism either fixed or replaced.
I'm ready for a home window replacement: Now what?
First, the age of your windows is a key consideration. As previously mentioned, some windows are not as efficient as their counterparts. So it may be worth the money you'll save in future heating and cooling bills to replace older and less-efficient windows. 
Next, think about your home's architecture and style. You'll want to select a style and type of window that matches both the design of your home and your personal aesthetic.
Finally, you'll want an experienced installer to inspect your window before making a recommendation. Although the windows themselves can be the reason behind leaks, drafts, etc. It's also possible to be experiencing problems due to other exterior issues.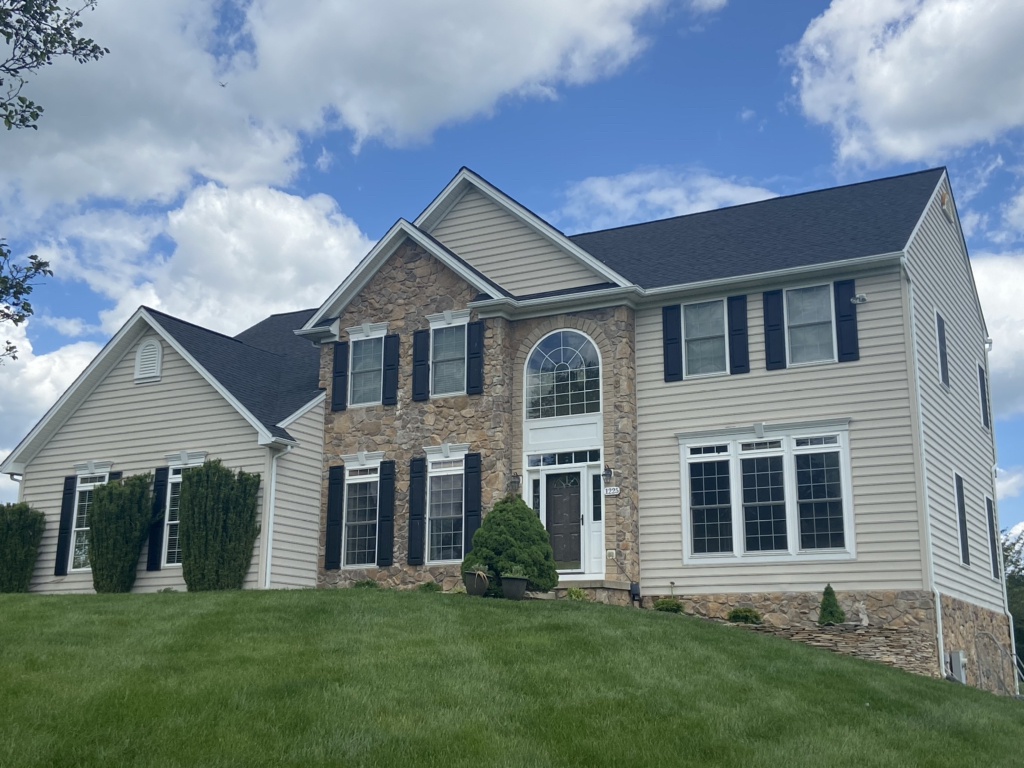 For example, if your roof or gutters aren't working properly, rain might be diverted to your windows — instead of rolling off of your home properly. This will inevitably lead to leaks and moisture in your window. Or, if the drip cap above your window is broken, it will not be able to properly divert water. That may eventually create issues with the window itself. Without addressing other exterior causes, you may be fixing one part of the problem — but not everything. 
Without addressing the full extent of the problem, you may spend lots of time and money replacing your windows. Only to have new window problems a few years down the road. For these reasons, it's important to find a contractor that you trust to help you navigate the window replacement (or repair) process.
Window Repair: Maryland or Replacement Windows: Baltimore
Whether you need a broken window repaired or a complete glass replacement, Mid-Atlantic Remodeling Company is your go-to contractor in the Baltimore, Maryland area. Our professional and experienced staff can repair and replace your windows, regardless of size or opening. 
Simply call us or contact Mid-Atlantic online so that we can help guide you through the entire process. From single-hung, double-hung, and arched windows, to transom and casement windows, skylights, and more, Mid-Atlantic Remodeling Company provides window repair, replacement, and installation at an affordable price. 
To learn more, set up an appointment, or ask a question about your window repair in Maryland or home window replacement, visit us today at https://midatlanticremodelingco.com/ or call (410) 918-0563.