The short answer? Yes . . . and Mid-Atlantic Remodeling Company is here to help.
With most people confined to their homes amid the Covid-19 pandemic, many homeowners have decided to use this time to Spring clean and reorganize everything from closets and drawers, to garages and basements. Still others are using the time to take care of long-overdue home improvements, both interior and exterior. If you fall into this category, you might be evaluating the outside of your home, asking yourself, "Is now the time for replacing roof shingles or to replace my roof?"
Whether it's due to your roof's age, or if you know that it's simply time to replace some roof shingles, this is the perfect opportunity for you to take care of these projects . Mid-Atlantic Remodeling Company is here to help.
But . . . shouldn't I just wait?
Unfortunately, weather doesn't wait for anything – and that includes COVID-19. If you have an old roof or dilapidated shingles, waiting to take care of it may lead to even bigger problems. It may be more expensive down the road. For instance, if your roof shingles need to be replaced and you do nothing, it's possible that the underlying roof trusses or sheathing could become damaged. Over time, this can lead to structural damage and even leaks. When it gets to this point, you may even find that you're seeing leaks in the interior of your home. Plus, the more the roof deteriorates, the greater your odds of needing to replace the entire roof. Meanwhile, being proactive can save you from interior damage, extensive roof repairs, and even greater unanticipated repair costs.
OK, I know it's time to fix this roof. Now what?
We are ready and able to service your roof repair needs, no matter how large or small. If you've never worked with us, it's important that you know we only hire the most reliable, ethical contractors. This allows us to provide superior roof replacement service and remain true to our customer-first approach. Not only that, but our 30-year guarantee and using only the best roofing materials will give you, the homeowner, complete peace of mind that your roofing project will be completed on time, and to a high degree of quality. Best of all, with Mid-Atlantic Remodeling Company, please know that your project is built to last.
Roof Repair with Mid-Atlantic Remodeling Company during COVID-19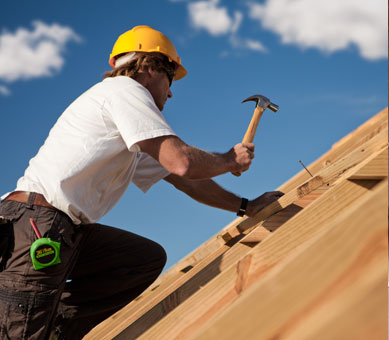 During these unprecedented times, we also understand the need for safety. Social distancing is the best way to "flatten the curve" and decrease the odds for virus exposure. And even though our workers are doing outdoor work, it is still crucial that, for everyone's safety and well-being. We adhere to social distancing measures. Below are a few suggestions and guidelines that we've developed. So that you can still take care of that important roofing project – and remain safe!
-Work out the details over the phone with us.
Whether it's a quick phone call about replacing roof shingles, or a more detailed discussion about a complete roof replacement, phone conversations are the easiest and safest way for us to communicate. In the event that we need to give you more information, such as style and color options. We can easily email you pictures and catalogues to assist in the decision-making process. By mapping out the details of the job before our workers show up means that you can stay safe – inside your home – while our professionals take care of your roof outside! Even if you need to see a sample in-person, we can place samples at your front door. Then we step back, and allow you to make your decision . . . without any physical contact.
-Our contractors understand how important it is to follow social distancing guidelines
Our professionals understand the importance of social distancing, which is why they will ensure they maintain a six-foot separation between their co-workers. Likewise, in the event that you need to ask a question or discuss anything related to the job with them. The contractors will respectfully maintain that six-foot distance during any face-to-face interactions.
In addition, our workers are not allowed to enter your home while they're on the job during COVID-19. So please do not feel obliged to offer access to the restroom, a glass of water, etc. We understand that traditional gestures of kindness, while thoughtful, are simply not an option at this time. And they could actually put people at risk, albeit unintentionally.
-You can make payments safely with Mid-Atlantic Remodeling Company
Rather than having to write a check or use any other payment methods that require passing paperwork back and forth in person. Mid-Atlantic gives you the option to make your payments online or over the phone. This eliminates the need for in-person transactions. Better yet, anything requiring signatures can be handled through technology like screenshots, digital signatures, etc.
Not only will following these recommendations keep you and your family safe, but it will ensure the safety of our workers as well!
Contact Us Today
Now that you're ready for Replacing Roof Shingles, please contact Mid-Atlantic Remodeling Company today at (410) 918-0563 to discuss your specific roofing needs.
And, if you are looking for other home improvements, call us or visit our website at https://midatlanticremodelingco.com/. To learn more about the wide range of remodeling projects we can help you with, to make your home beautiful and safe during these uncertain times.